Every once in a while I will get it into my head to try something new, or something at least once. This has seen me try cable skiing, cross country skiing, kitesurfing, windsurfing, driving racing cars (once), driving karts, whitewater rafting, crochet, knitting, tapestry and building websites using WordPress.
For the last couple of years, I've been looking at the options involved in bobbin lace. This is not straightforward for rather dumb reasons. You cannot walk into a shop in Dublin (or if you can, I haven't found it), peruse bobbins and bobbin lace making gear and do the instant gratification thing. So I bought my first bobbins at the Knitting and Stitching show a couple of years ago. I managed to buy six members' bobbins from the Guild of Lacemakers who had come over from the UK to exhibit.
Since then, I eventually bought another bunch of bobbins in a tiny shop in Santiago de Compostela, along with 4 useful looking pins about a year ago. In the meantime, all sorts of interesting things have happened in my life. I acquired some useful looking aeroboard and then settled down to perusing the internet looking for Guidance.
At this point, a little diversion to a period in my life ten years ago when I started doing crochet and found it difficult to a) find patterns b) hooks c) fine thread. Hard and all as that was – and it has changed big time in the intervening years – it is nothing compared to the research required in trying to figure out what to do here.
There are minimal and unclear lessons in English on Youtube. Seriously. Youtube has everything on it but in English, the whole lace bobbin thing is unclear. If you want to learn how to do the lace stitches from the internet, in English (I keep banging on about the English here for a point), you really need to look at this site. Jo Edkins' Lace School. The site was built in 2002 and is styled accordingly but in terms of the resources on it, it is second to none which I have found thus far on this journey. She also has two books available on Kindle. I will get them because I live in fear and terror at this stage that her website might disappear.
In terms of getting useful stuff out of the School of Youtube, you need to swallow your guts and dive into the world of videos not in English. It's not completely scary but I recommend that you at least learn cloth stitch from Jo Edkin's site first and then, here are the terms you need to learn:
These are the terms for bobbins in Italian, Spanish and French respectively. Bolillo also seems to refer to some sort of bread roll as well. It is worth searching for videos to watch even if you don't understand them, just to get a feel for things.
Anyway, I finally got my act together and found Jo Edkins' site yesterday. This was result number 3: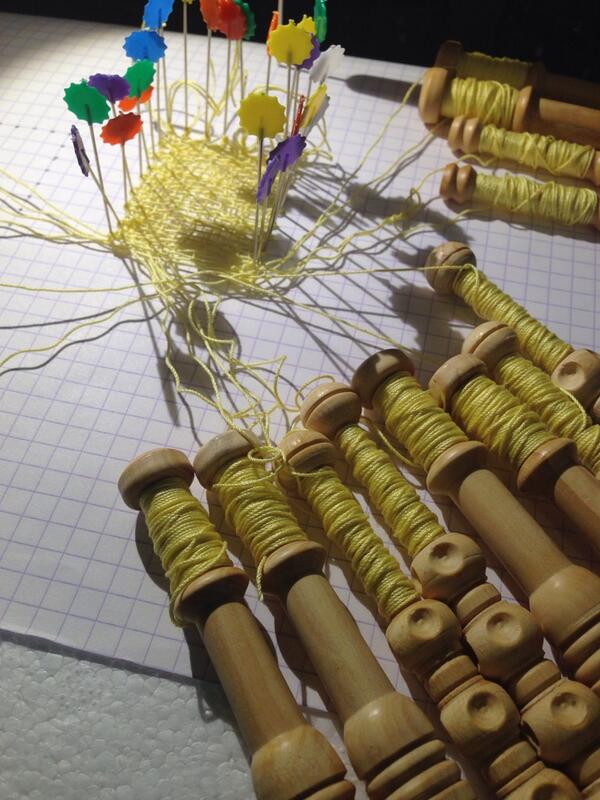 I've learned a lot over the last few days.
I find the spangle jewelly things on the end of the English bobbins useful because the bobbins themselves are a touch on the dainty side.
I like my Spanish bobbins more, possibly because my hands, although soft and light on the keys of a 1882 Bechstein grand piano are still lacking in the daintiness and stuff.
Faking the whole work cushion thing using decent aeroboard works but I advise against aeroboard that is more than about 3 cm deep.
Those pins are too thin. However, in my defence I was kind of limited in terms of what was available yesterday at 4.30 when I couldn't find the box Which Has Vanished.
Having watched a lot of Italian youtube videos (tombolo) I've decided I don't really like the Italian bobbins either.
Finding supplies is hard work. This matters because I don't know if I can go with the whole aeroboard thing for much longer (certainly on the aeroboard I have at the moment anyway) and I do want some sort of a lacemaking pillow. But I also need it to fit into my life.
And so, another journey starts.