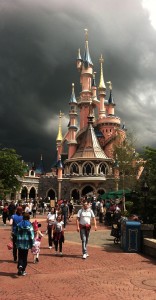 I was in Disneyland in Paris during the week. It was a one day trip, but while we were there, I witnessed the most amazing rain and thunderstorm that I've seen in a long time.
We came out of one of the restaurants to the news that nearly all the attractions in the park had shut down; my niece, operator of the iPhone app keeping us updated of queue lengths and fastpast wait times wasn't sure why this might have happened. A glance at the sky, however, was a bit more revealing.
Most entertaining was the guy who cut his losses and breakdanced his way through the rainstorm as he was already soaked. I've never seen clouds quite like this in Dublin – some fairly nasty ones yes, but nothing as dramatic as these ones.