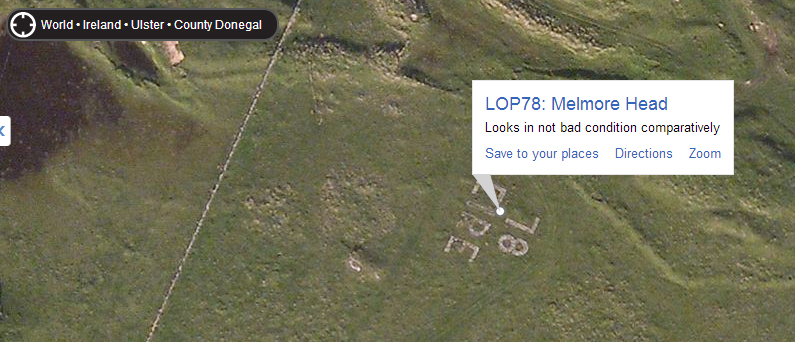 UPDATE: PLEASE GO TO WWW.EIREMARKINGS.ORG FOR MORE INDEPTH INFORMATION ON THIS SUBJECT. 26 SITES STILL REMAIN.
In 1986, I went to Donegal on a family holiday and before we were finally washed all the way down to Hurricane Charlie and Bantry Bay, we visited Malin Head on a cloudy, cool enough day. I don't remember very much about it, but I remember seeing markings on the headline pointing out that this was Eire. We'd never seen them before, and somewhat surprisingly, my mother didn't know anything about them. After some careful consideration, I assumed it went back to the early years of the state, and possibly linked to the fact that Malin was the pointiest bit north of the country. Logically I wouldn't have been surprised to know they existed on Slyne Head (west). Mizen (south) and Wicklow Head (east).
In fact, they probably did, but it had little to do with the earliest years of the state. The subject of those markings came up during the week and somewhere along the line, between 1986, and 2012, I did learn that they had something to do with the Emergency. Following the discussion I had with a colleague during the week, I started looking in to them again. The best known appears to be the one on Malin, but it is far from being the only one. I tracked down the one on Malin on google maps and, having done a little research around them, I realised there really is no clear piece of information about them on the web.
I'm not a historian but in the way that various things catch my attention, I'm interested enough in these because they are a snapshot of time, and mostly, we tend to march over those snapshots.
During the war years, a number of coastal look out points were built around Ireland to monitor shipping and air traffic. Ireland had declared itself neutral. In total, 84 of these lookout points were constructed. They consisted of what can best be described as a little concrete bunker. About 50 of those structures have left footprints or are still standing. They look cheap, they are built of concrete, and most of them are in a state of disrepair. The only one I can recall ever being in is the one on Brandon Point in Kerry. I took some photographs from it.
You really have no idea just how small this thing is. There was a tiny fire place in it, and otherwise it was pretty much open to the elements. I don't know if they had glass in them. Having seen photographs of a lot of them lately, I doubt it. It cannot have been pleasant on a winter's night in them.
Volunteers were assigned to each of the look out posts on eighthour shifts, one to watch, and take phone calls – these things were on the phone network – to keep abreast of any news from the other posts – one to patrol. Part of this was linked to the risk of an invasion of Ireland, a neutral country. Wikipedia has an interesting entry on Plan W. I really wouldn't mind looking into that a bit more closely in the future but it's a good starting point for the purposes of this piece.
The Clare Champion has a piece about the lookout post in Loop Head which is well worth a read.
Each of the lookout posts were numbered, 1 to 84, starting in the north east and finishing in the far north of the country. You can find an overview of the lookout posts here, along with photographs of the sites of all of them. I really appreciate this site because it speeded up some of what I wanted to do during the week quite a lot. Tim Schmelzer deserves an awful lot of kudos for that project but he concentrated mainly on the buildings and for myself, what interested me most was the markings.
According to one comment I have seen, the markings were put in place at the request of the American Air Force. I suspect that not only were they lined up to inform overflying pilots that they were over neutral territory (and shouldn't be flying over) but as most of them were numbered and seem to face in specific directions, they may have also functioned as navigational aids. You can see this in a number of them. There are existing pictures of the marking in Inishowen, for example, and also of the one on Erris Head in Mayo. Interestingly, the numbers do not appear to have survived in all cases although the EIRE letters themselves have.
What I wanted to do was try and locate them on web available satellite imagery. There is very, very little information about the markings on the web so even now I am not sure how many of them still exist to be seen. If there is more than a dozen, I will be surprised. Most of the information I could glean about them have come from threads on Boards.ie and IrishMilitaryonline.com. From boards.ie I have learned that at least one other person has had a go at mapping them but I haven't seen any evidence of the map. I initially looked at plotting them on Google but have found that the resolution on Bing's service is slightly better for key parts of the west of Ireland
Until very recently, the EIRE sign linked to Loop Head was buried. In fact, it was uncovered so recently that you cannot see it on the Google map of Loop Head. Again, according to the Clare Champion it was unearthed and restored this year. The Bing map for West Clare has no resolution for that area.
As things stand, I can locate about ten of the signs on Bing Maps. I'm aware of an additional 1 which is in an area with inadequate resolution. In addition, I believe there are four more between Slieve League and Achill Island which are still visible but I have not yet been able to locate them. The two at Slieve League in particular have been noted as being in a state of disrepair.
Located on Bing Maps.
Malin Head, County Donegal
Saint John's Head, County Donegal,
Dursey Island, County Cork
Black Head, County Clare
Erris Head, County Mayo
Horn Head, County Donegal
Melmore Head, County Donegal
Inishowen Head, County Donegal
Toe Head, County Cork
Arranmore Point, County Donegal
Location known but not available at time of satellite scan
Loop Head County Clare
Known to exist but not located on a map:
Achill Island, County Mayo ( 59 – Given as Moyteogue head on Tim's site above) (x 2)
Slieve League, County Donegal (x 2) <<<one of these located, other is now gone
Baltimore 29 has been renovated. There are photographs of it but I can't find it on a map (ETA)
My hope was to locate a dozen of them. I've a feeling I've actually seen the Black Head one driving past and just forgot. I don't know why. I didn't expect to find it too easily because I expected it to fade into the background of the Burren stone landscape.
I have seen a picture of one above which I haven't identified (see here) so I'd obviously like to track that one down as well. The image is very clearly from google, but it doesn't match any of the ones I have.
When I've done all this, I'll write a proper summary of what I know about these markings and post it to a page either here or on my primary website. The map is very much under construction so I'll post it here later.
The current map of those I have located is here:
It transpires that to get the pushpins, you need to view the larger map. You'll also need to choose AERIAL view to get the images. This is not ideal for me – I'd prefer Google but seriously, the resolution is nowhere near adequate in a lot of key places.
There's a bit of research going into this, so any help would be appreciated. In addition to the map plots on Bing and Google, I will look at seeing if an OSI map can be put together. I'm also interested in collecting photographs of the sites taken from the air, if possible, with a view to tracking changes in their condition. Any help would be appreciated.
Thanks.